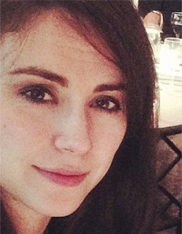 Hi my name is Jules Verardi.
I'm in my 12th year as a designer and animator in NYC specializing in a wide
variety of design and animation work in print, motion, and digital.
Growing up my notebooks were always covered in doodles. I had an unhealthy obsession with unicorns and She-Ra. I signed everyone's yearbook in 5th grade with an illustration of a cat doing a different pose. I had no idea what I wanted to do with art but I wanted in.
I graduated with a BFA from School of Visual Arts (SVA) and have continued my education through classes at School of Visual Arts, NYU, and Cooper Union.
I have worked with a wide range of clients that you can view here:
www.linkedin.com/pub/julie-verardi/6/9b/271
I also enjoy bike riding, creating the perfect bite of food, having friendships based entirely on quoting The Simpsons and Seinfeld, the movie Spirited Away, narwhals, cats, being in nature, and eating my weight in cheese any given night.
I'm always down for collaborations, side projects or just to chat and share ideas. Feel free to send me an email or shoot me a message.
Here are a few of the clients I've worked for: